That's right, folks. The time has come for Slingshot Wallet to spread its beta tested wings and fly into the real world. Now publicly available to download on the App Store and Google Play Store! Before diving into the specifics of our next generation DeFi Wallet, we'd like to thank everyone who has helped us get to launch. To our community of Slingshot users, who waited patiently and beta tested beautifully. And to our team, who have all been heads down these past few months to perfect Slingshot Wallet for iOS and Android launch.
Our self-custody and multi-chain DeFi wallet is the all-in-one mobile version of our Slingshot desktop app. With over 50k tokens to swap with 0% swap fees, claimable positive slippage, real-time prices, and top network support, it's the Slingshot you know and love. And with in-app bridging, custom price alerts, and personalized wallet collections, it's the Slingshot Wallet you've needed all along.
We've said goodbye to CeFi, but now it's time to say hello to Slingshot Wallet: 
Key Features
50k+ tokens with 0% swap fees and best prices 

Custom alerts for on-the-go notifications

In-app bridging through our Socket integration 

Mobile Promos & Rewards

Multi-chain support for Arbitrum, BNB Chain, Canto, Ethereum Mainnet, Optimism, and Polygon

Positive slippage is given back 

Real-time prices and token charts

WalletConnect QR Scanning and dApp integration
Slingshot Wallet Glossary
We've put together a Slingshot Wallet overview as a guide for new users. If you are looking for more elaborate feature walkthroughs and tutorials, you can find them in our Slingshot Wallet Help Center.
Once you've downloaded the app and have either created a new Slingshot Wallet or imported an external one, you will be brought to the Home Page. At the bottom of your screen are the tabs for the three main pages: the Home Page, the Explore Page, and the Account Page. 
The Home Page - This is the main page for your customized Slingshot Wallet experience. From here you can access and add to your wallet collection via the Wallet Selector, start swapping from the Swap Page, and bridge cross-chain from the Bridging Page. You can also view your existing assets, wallet balance, token watchlist, and your swap history.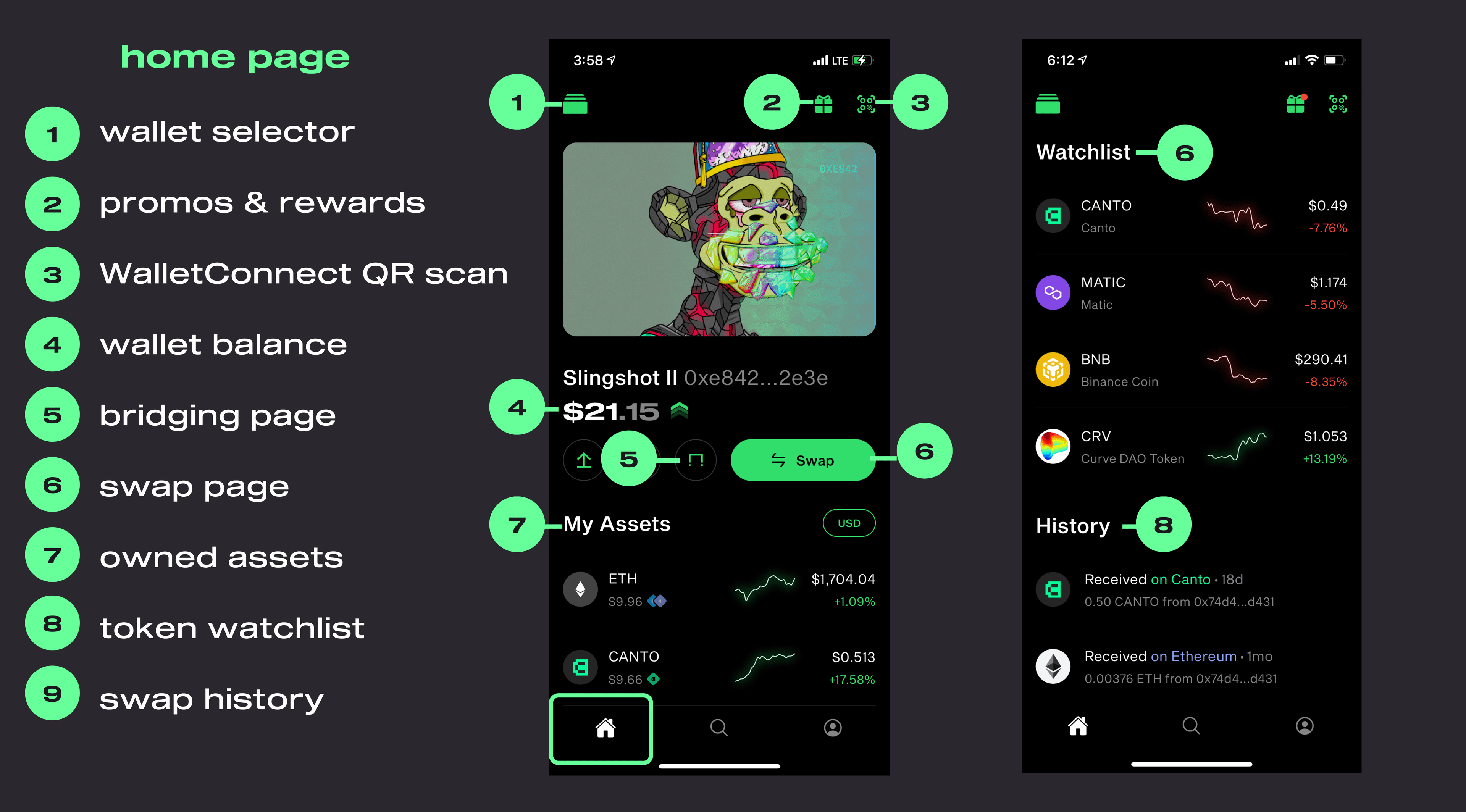 By tapping the icons highlighted in green above, you can access the individual pages and features. Shown below are the Wallet Selector, Swap Page, and Bridging Page. Bridging is made seamless through our partnership with Socket. While support for Canto is coming soon, bridging for all other networks is currently live.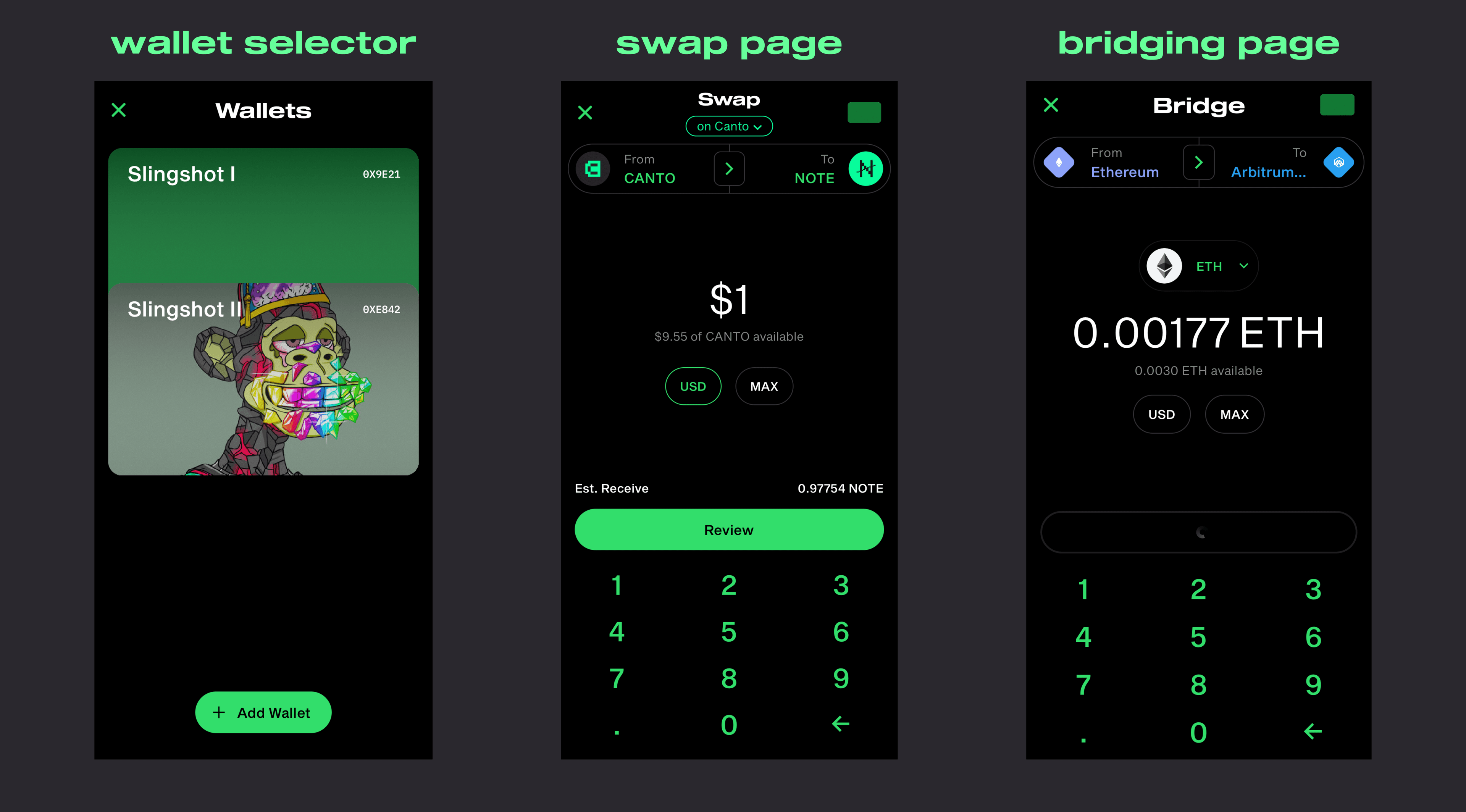 And below are the relevant guides for Home Page features (all are published in our Slingshot Help Center): 
The Explore Page - This is where you can search for 50k+ tokens to swap, find the top movers on every supported network, see real-time prices, and add tokens to your watchlist.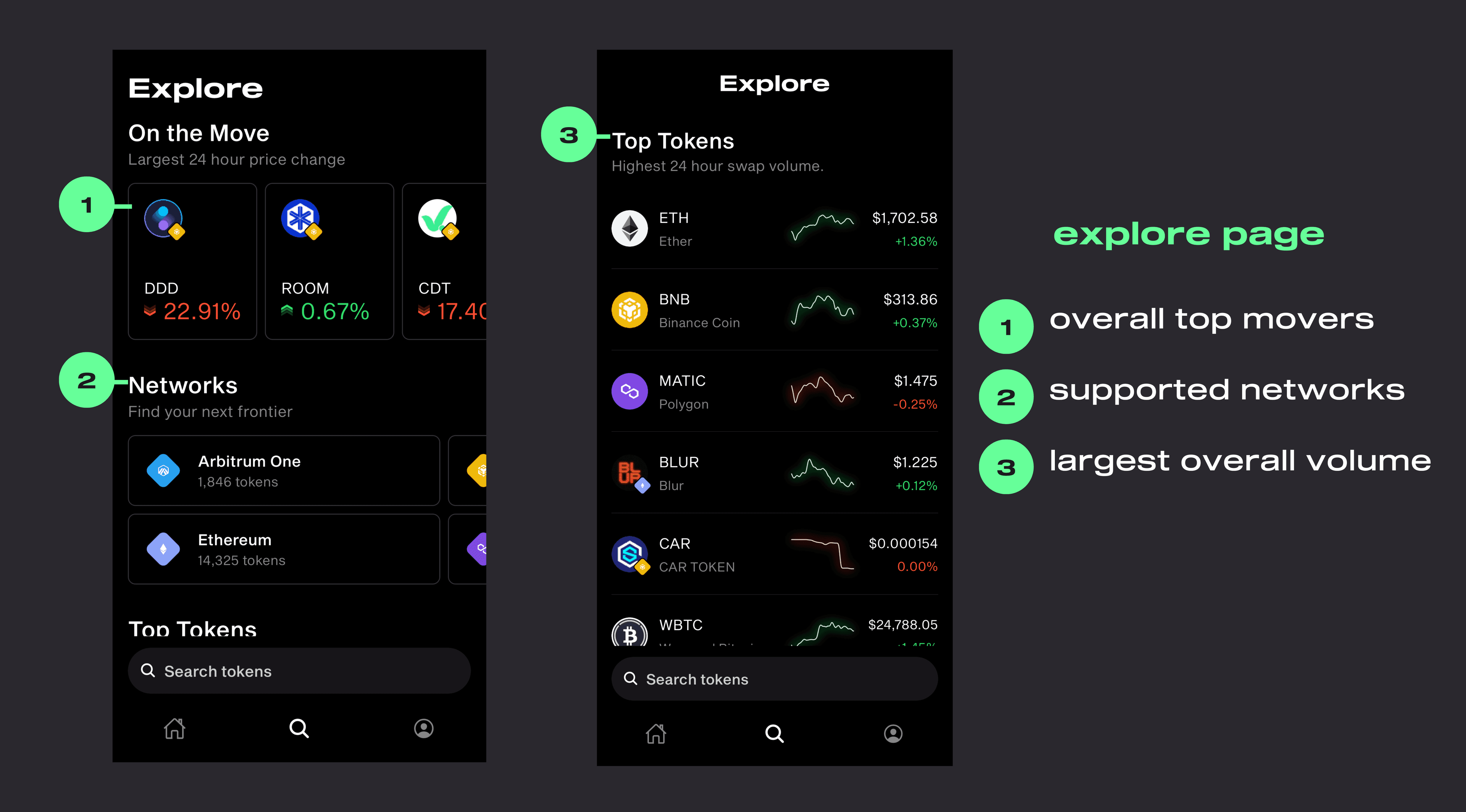 Tap on any token or network to view detailed token pages, and see top movers in action through our real-time price charts. Add tokens to your watchlist or swap directly from their specified page.
Check out the below guides for additional Explore Page features (all are published in our Slingshot Help Center):
The Account Page - This is where you can enable/disable features, backup your wallet, set up your notifications, and further customize your experience. Access Settings, Trusted Apps via WalletConnect, Support & Feedback, and Legal for terms & conditions. 
The Settings Page is where you can enable or disable certain networks, view your recovery phrase so that you are able to backup your wallet if something happens, enable certain safety measures, toggle on or off Ape Mode, and set custom price alerts or notifications.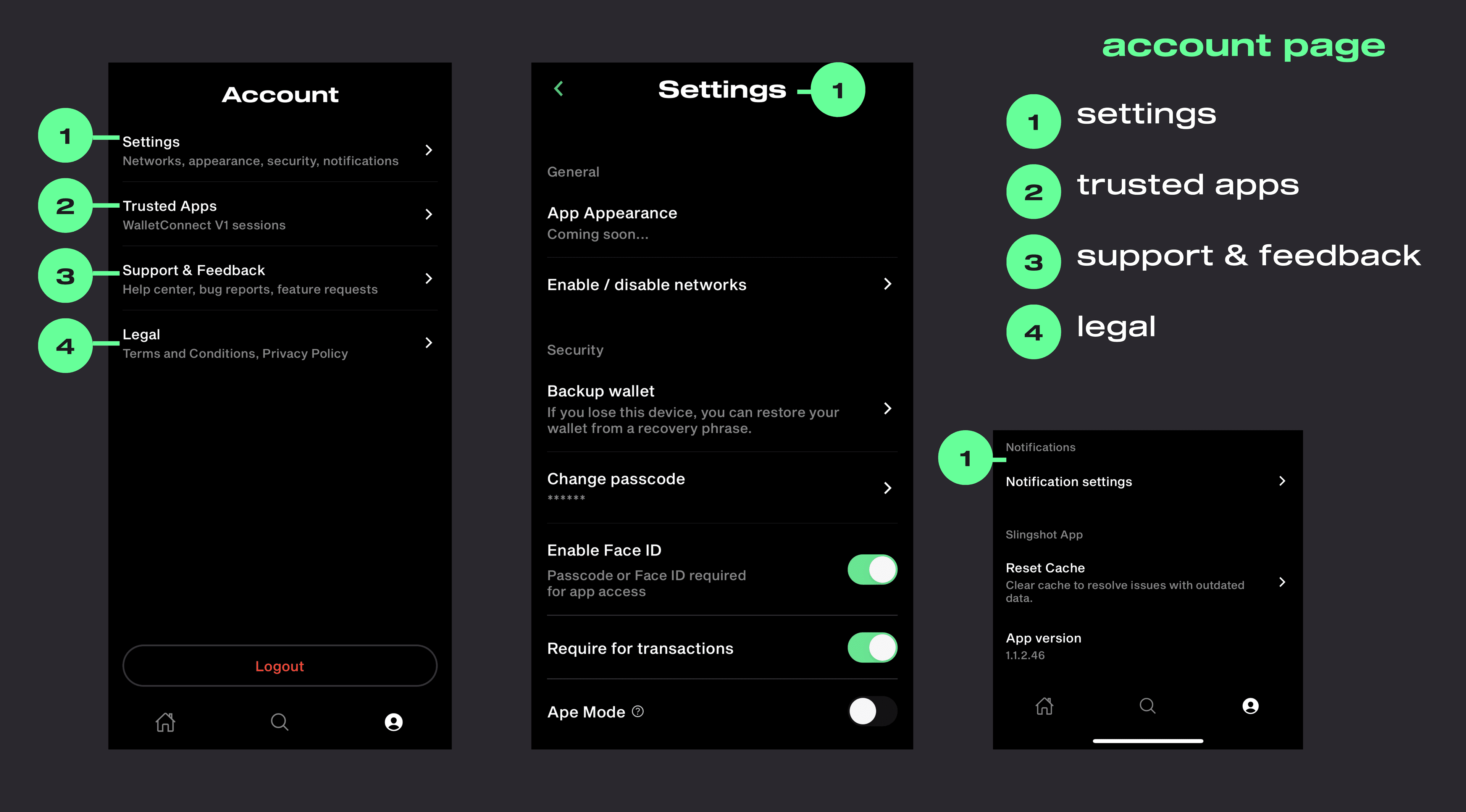 For more information, refer to our below Help Center guides: 
Getting Started Promo
In celebration of the official launch of our Slingshot Wallet, we are kicking off a Getting Started Promo. Get exclusive wallet skins just by Getting Started. The promo starts now (2/28/2023) and ends 3/17/2023 at 11:59pm PST. Subject to terms & conditions: https://slingshot.finance/terms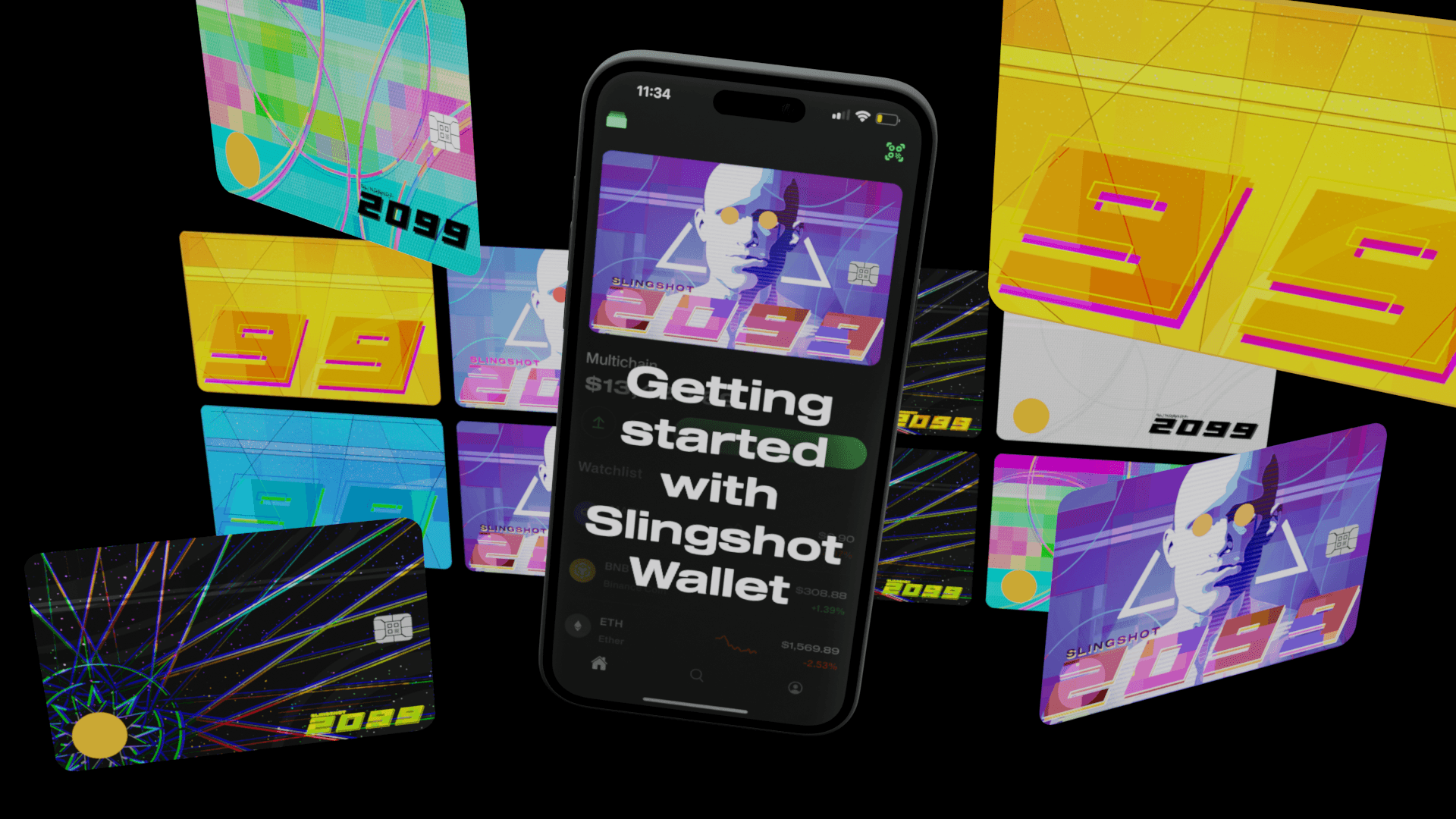 For eligible users, here are the steps for Getting Started (along with the relevant Help Center guides for getting started): 
Deposit crypto to a wallet in your collection (either a Slingshot Wallet you have created OR an External Wallet that you have imported into your collection).

Make your very first swap on any supported network.

Swap at least 5 different tokens. 

Bridge cross-chain on any supported networks (Please note: only tokens supported by Socket are available for bridging. Canto bridging support is coming soon). 
Along with the relevant Help Center articles to guide you on your Getting Started journey:
This is our third reward promo for Slingshot Wallet users. The first two ran while we were still in beta testing. The first was a Past Swap Bonus for multi chain swaps which rewarded eligible users with a surprise bonus of $MATIC tokens for having reached specific swap criteria. And most recently, our Mobile Canto Promo, which rewarded eligible users with $CANTO tokens for swapping on mobile. Stay tuned for future promos and swap on mobile now for our Getting Started one!
Please note: For those who referred and waitlisted, Waitlist Rewards will be available to claim 3/08/23, with more information and details to come on the claiming process.
Looking Forward 
We're thrilled to publicly launch Slingshot Wallet and excited for everyone to now have access. We have many exciting feature updates in store like bridging, which went live last week. Stay tuned for future announcements, promos, and mobile notifications!
Please Note
This message is provided for educational and informational purposes only. By using Slingshot, you agree to our Terms and Conditions. This is not investment advice or a recommendation or solicitation to swap or hold any digital asset or to use a particular investment strategy. Some digital assets and markets may be unregulated, so you may not be protected by government insurance or regulatory protections. Digital assets are unpredictable so there is risk that you lose funds. You may owe taxes on your transactions so you should seek independent tax advice.
Join and follow us below
Twitter: @SlingshotCrypto
Discord: https://discord.com/invite/H3UcvgtASR
**
**