We're proud to support the launch of Canto and are excited to give users the opportunity to swap Canto-based assets on Slingshot! Let's learn more about Canto, their mission in the DeFi space, and how to swap on Slingshot:
Introduction to Canto
Free Public Infrastructure & public utility protocols overview
How to swap $CANTO, $NOTE, & more on Slingshot
Welcome Canto!
Canto is a new L1 blockchain on the mission to provide core DeFi primitives as Free Public Infrastructure (FPI), a revolutionary model to enhance accessibility, transparency, decentralization, and freedom throughout the DeFi space.
Existing DeFi ecosystems, all aided by extreme growth of the industry, have set into motion the common practice of launching governing tokens, specific to their protocol and attaining value through fees paid by future users. This is where Canto diverges, launching the three core DeFi primitives as public utility protocols instead of the 'rent' like model so far instilled. Thus, shifting the dynamics in which value is derived by giving governance powers to the chain.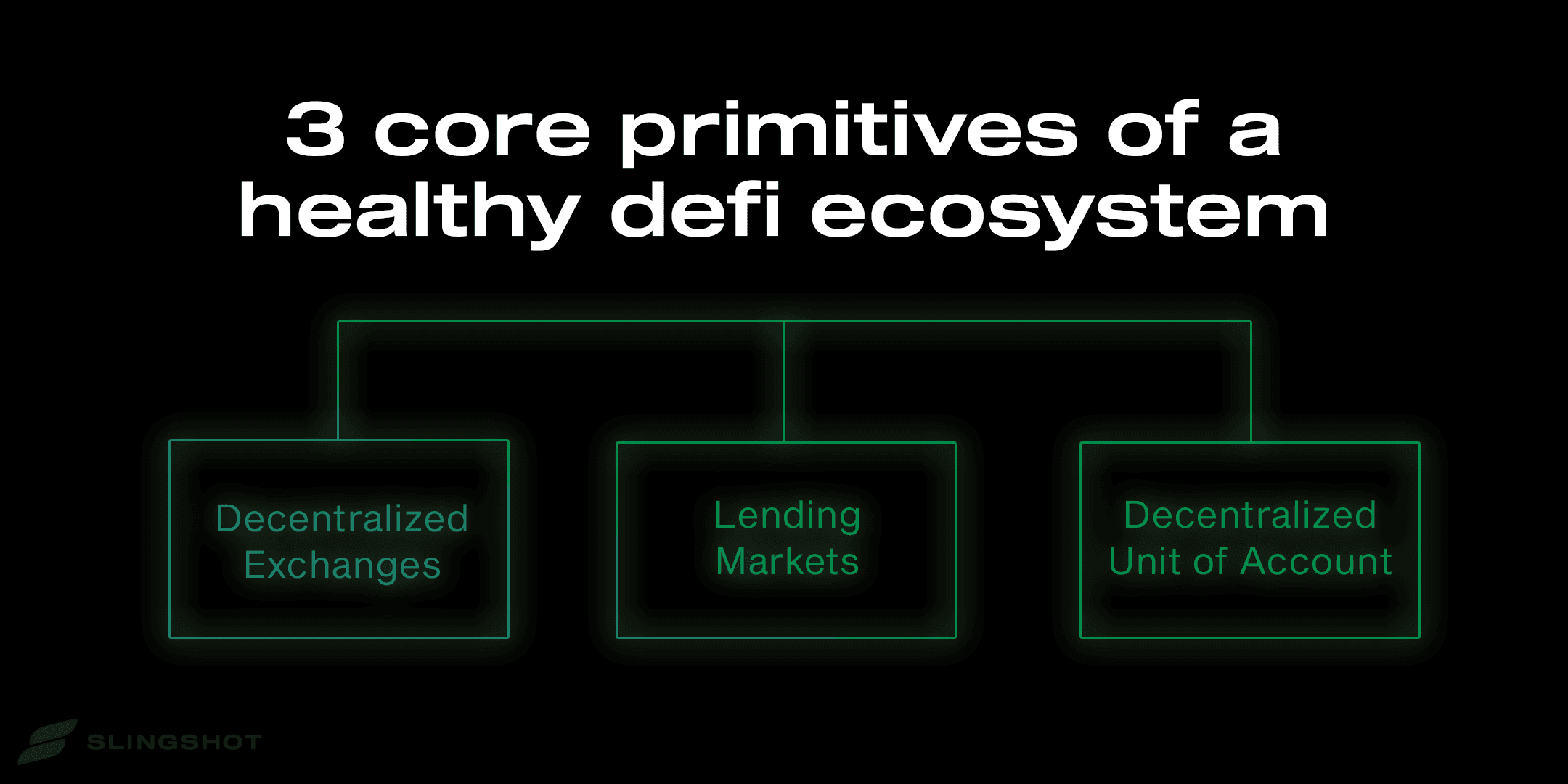 Decentralized exchanges (DEX): Canto's DEX will remain ungoverned and will run upgrade free and in perpetuity on Canto. A model which guarantees a future without token launches, additional fees, or progression toward rent-seeking behaviors. By excluding these known items, the associated risks are likely minimized, such as centralization, network, or token risks.
Lending markets: The Canto Lending Market (CLM) is governed by Canto stakers, whose interest in the growth of the ecosystem for both developers and users effectively disbands holder incentive to extract rent. The CLM Accountant contract is responsible for the entire supply of Canto's unit of account token, $NOTE.
Decentralized unit of account: Canto's unit of account token is $NOTE (now available to swap on Slingshot!) and is fully decentralized, over-collateralized, automated, and backed by M1 assets. The interest rate is algorithmically programmed to change with the goal of decreasing volatility, and will contribute toward funding public goods. The borrowers pay the interest, which is then distributed to the lenders. No additional interest is extracted as revenue. To learn more about $NOTE, click here.
How to swap Canto-based assets on Slingshot
To access Canto using Slingshot, go to the token trading page. Once you've connected your wallet and are on the 'Trade' page, follow the below steps to switch from your current liquidity zone to Canto:
Navigate to the right of the screen for the swap widget. Click on the liquidity zone at the top right of the widget to reveal a liquidity zone selection menu.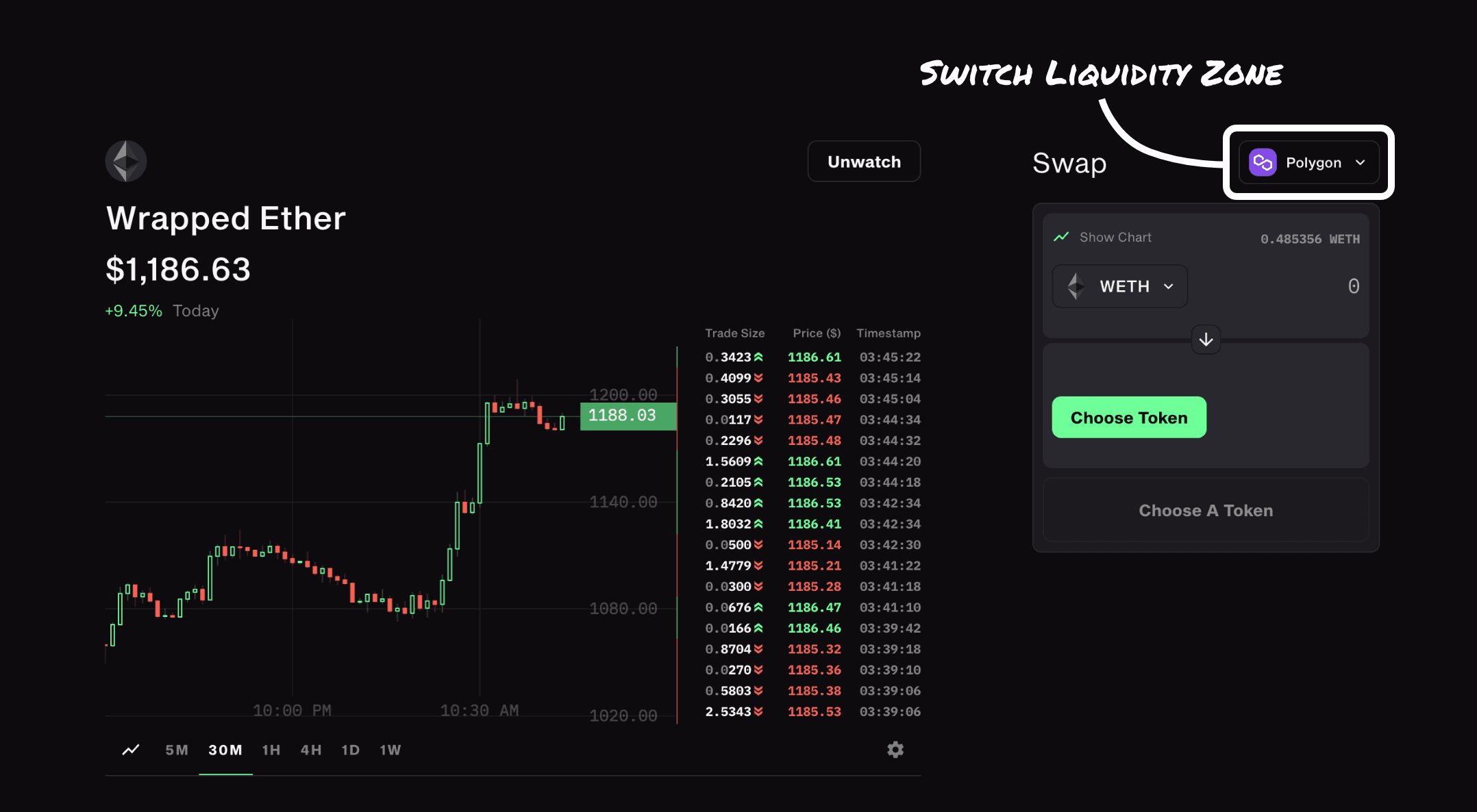 Once you're in the liquidity zone selection menu, click on 'Canto' to replace your current liquidity zone.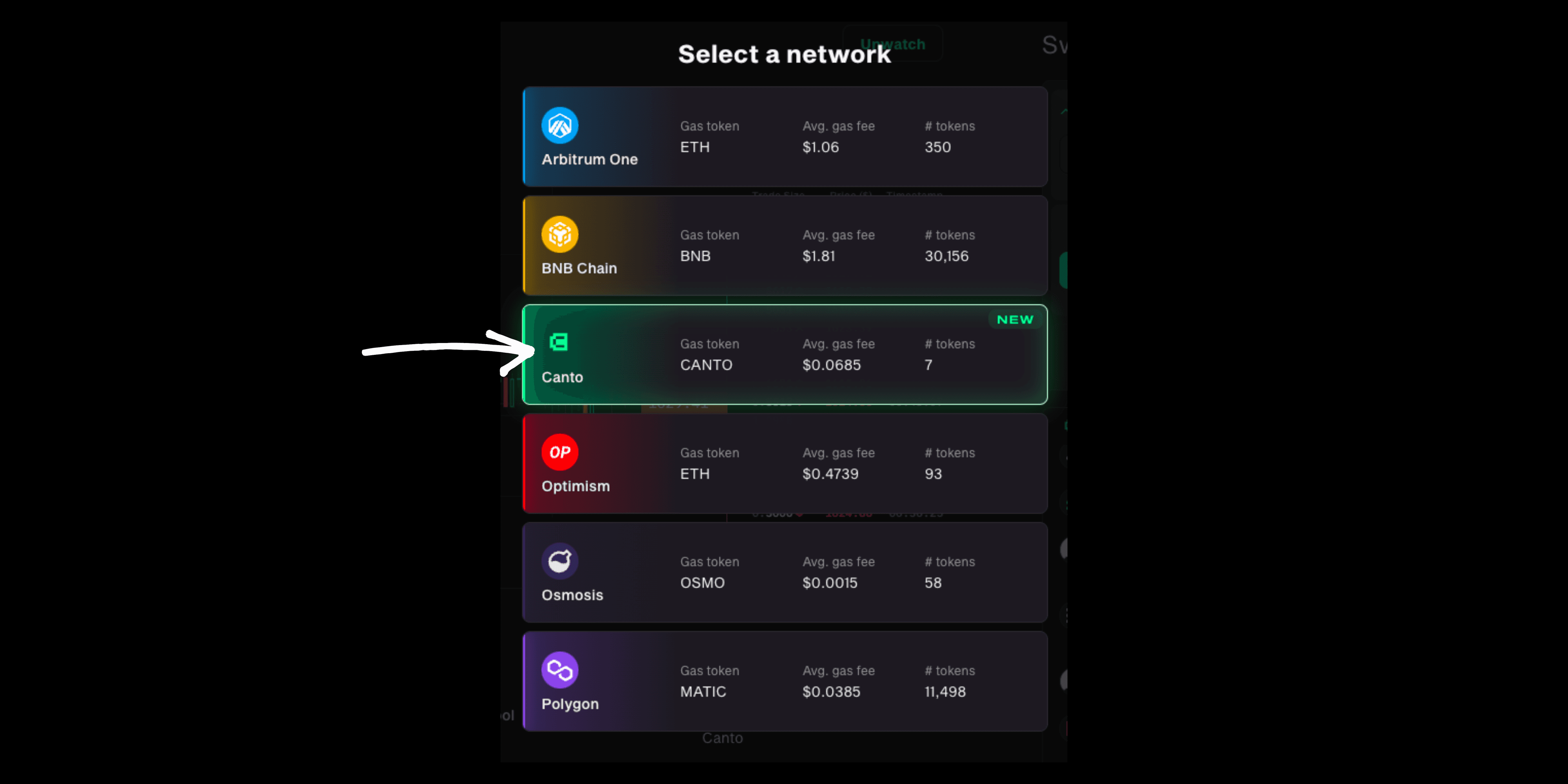 After you've selected Canto as your preferred liquidity zone, click on the 'Choose Token' button on the swap widget to select the token you'd like to swap. Available assets to trade on Canto are: NOTE, CANTO, WCANTO, USDC, ETH, USDT, & ATOM.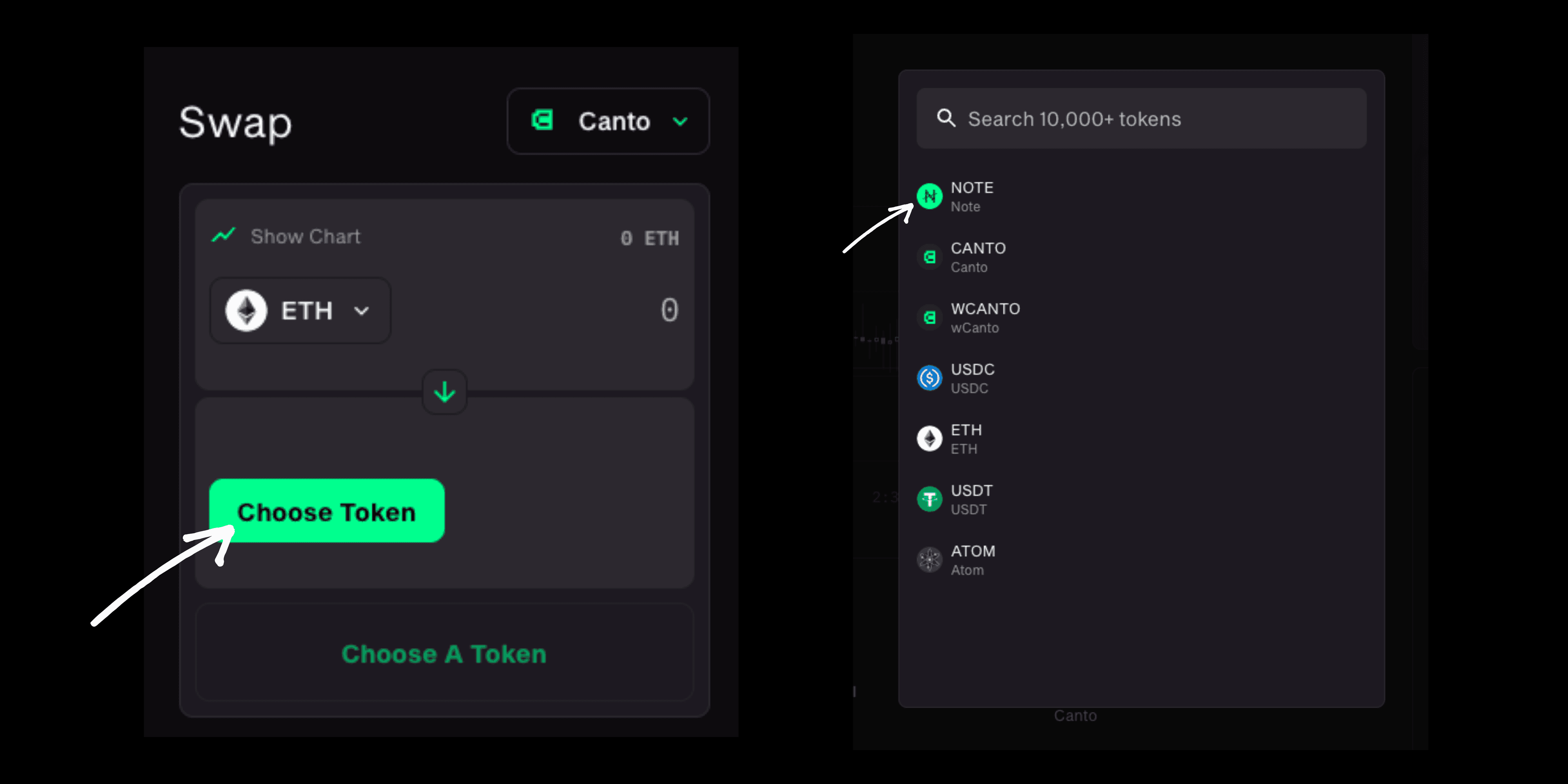 Once you've selected your token of choice, enter the amount that you would like to swap into the swap widget. You will see the amount calculated in return by Slingshot for your second token.
Please ensure that you have sufficient funds in your account for a successful transaction. If you have insufficient funds, your order will not go through.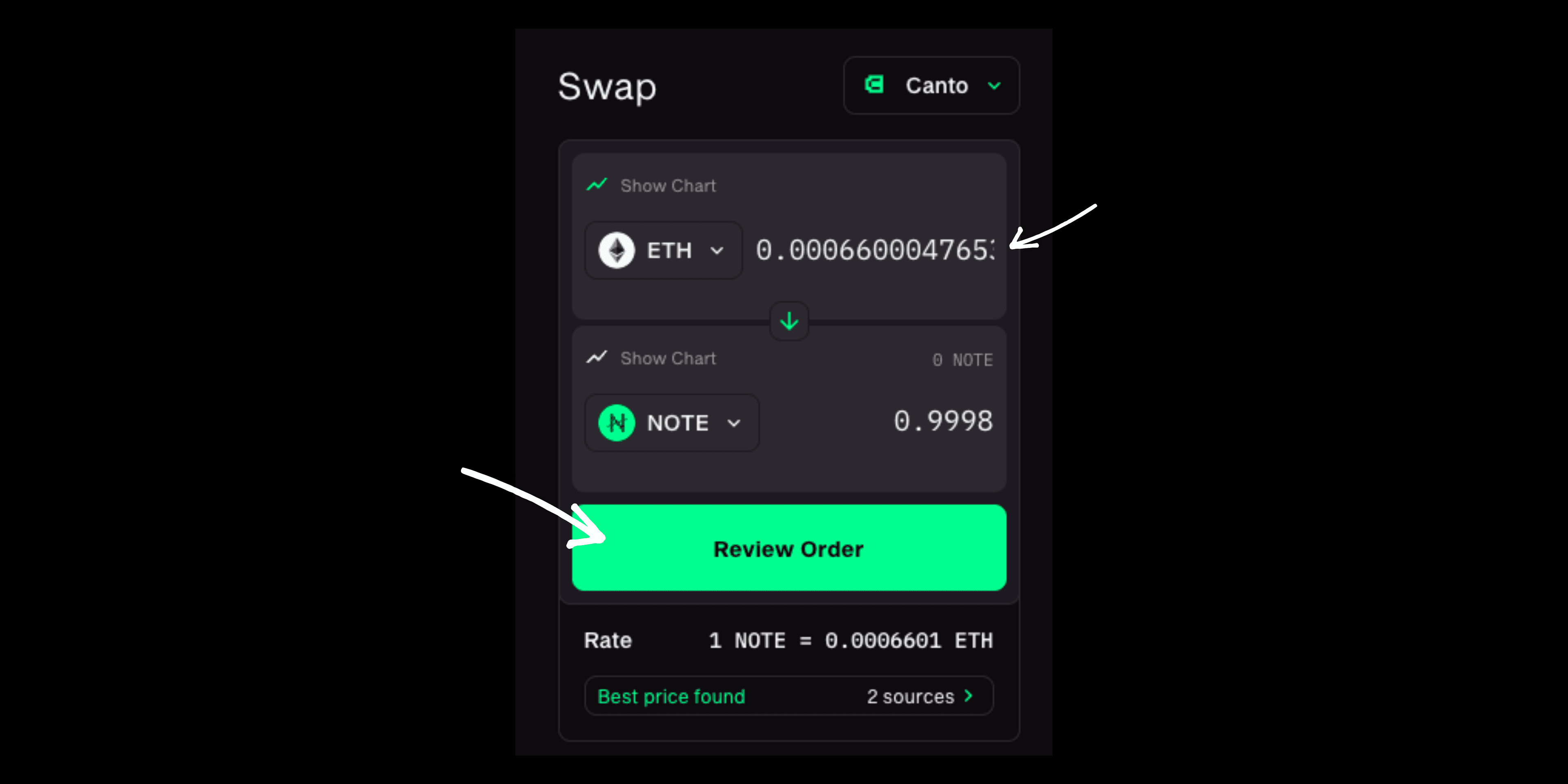 Click 'Review Order' which will take you to the 'Order Summary' window, where all details to your transaction request are located. If your wallet is not connected to Canto, Slingshot will ask permission to switch the current network you're on. From this modal, you're able to adjust 'Execution Speed' gas fees, along with the 'Maximum Slippage' you are willing to accept for your trade.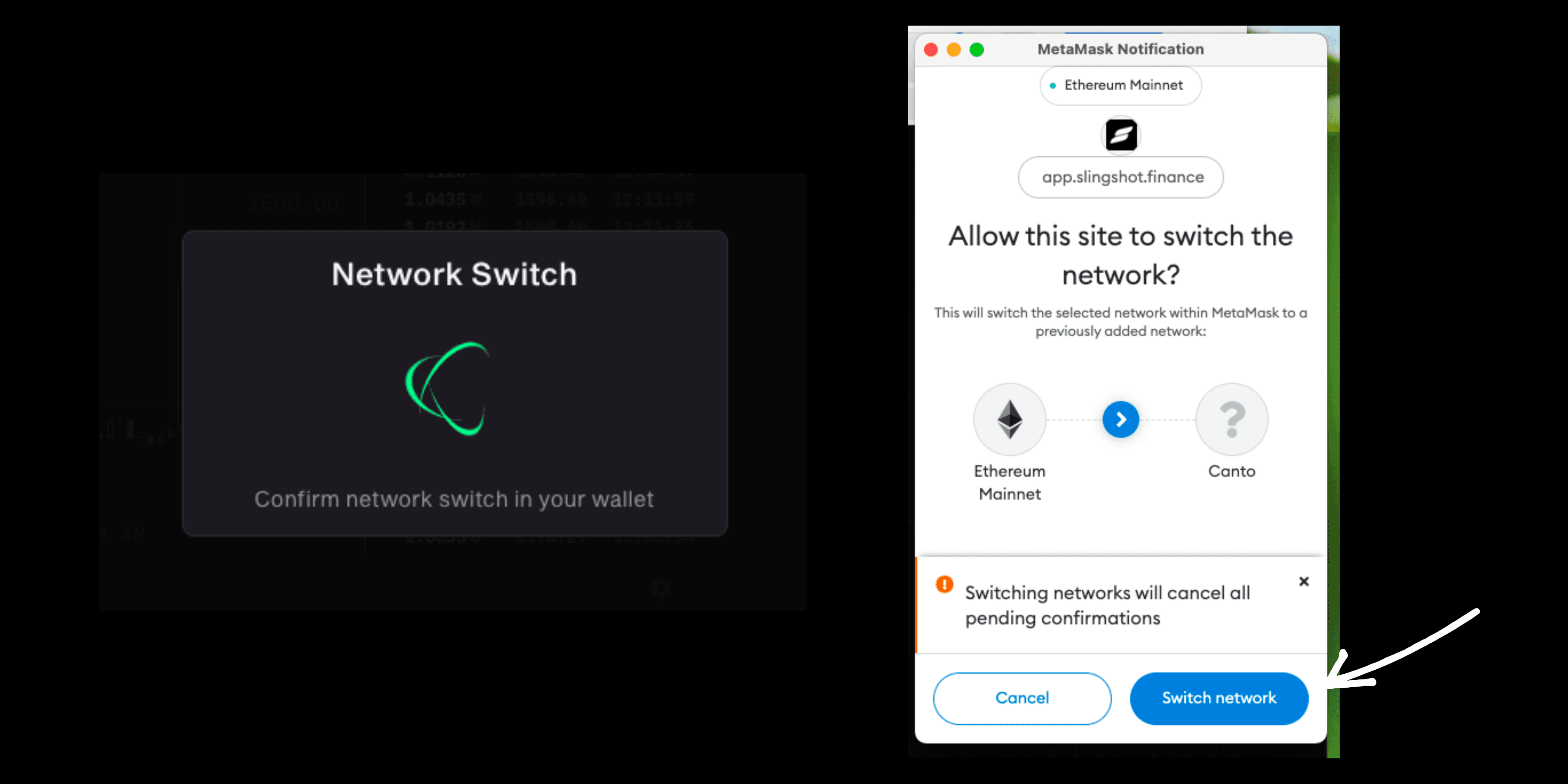 Lastly, click 'Place Order' to send a request to your connected wallet to authorize the transaction. You will be notified with complete order details as soon as the transaction goes through.
Congratulations, you've successfully swapped a Canto-based asset on Slingshot! We thank you for joining us in our support of Canto and helping contribute to the promise of DeFi. We look forward to sharing future updates with you, so stay tuned for what's next.
Please note: This post is provided for educational and informational purposes only. By using or continuing to use Slingshot, you acknowledge and agree to our Terms and Conditions. You are solely responsible for your use of Slingshot to swap digital assets, including determining whether this activity is suitable and appropriate for you. Slingshot does not endorse or recommend that you use its products to swap any particular digital assets. Given the unprecedented nature of Canto, there is financial risk when swapping Canto-based assets. Canto is the first to tackle this FPI model, and we are excited for our users to access Canto-based assets. However, our priority is always our users, and we want to ensure that all are aware of the risks before placing a swap.
Follow us on Twitter.
Join our Discord.
Start trading $CANTO on Slingshot today: